Real Playboy Bunnies at Live Casino

Playboy Live Dealer Casino offers gorgeous Playboy bunnies!
Everyone on planet earth knows about Playboy. The company has a long history in the adult world that started with the hugely successful magazine followed by a television channel, website and so on. All dedicated to offering photos and video of the hottest babes in their birthday suits. Microgaming on the other hand has produced some of the greatest online slots over the last decade and are considering by many to be the top dog in the online casino industry.
Together these two lucrative brands have produced the Playboy Live Dealer Studio, which was launched and went live just last month. Based on the original Playboy Clubs of decades gone by, it offers live dealers dressed in the famous bunny outfits, as well as cracking online gambling games. The studio is run via a live internet video stream, broadcast directly from inside one of the Playboy Live Dealer casino studios, which could very well be based at the Playboy Mansion. The idea is that gamers can witness a live stream of a game in session and can place their bets on the game in question i.e. roulette, in real time and as it happens from the comfort of their very home own.
At present, the Playboy Live Dealer consists of roulette, blackjack and baccarat games only, although there are plans in the pipeline for live slot machines to be developed. This would be a first, because at present no such undertaking has ever been achieved successfully in the short history of live dealer gaming.
Speaking of the software and the partnership, Playboy's Senior Vice President, Jason Turner, commented that the partnership "is another example of partnering our iconic brand with the best", referring to Microgaming.
Microgaming's CEO Roger Raatgever added that "the deal represented yet another first for the games software provider", and continued to state that "we believe we have created an outstanding Live Dealer Playboy product which perfectly embodies this iconic brand." He later went on to compliment the software as 'unique'.
Of course the chance to have your cards and bets handled by Playboy's finest bunnies is sure to have a major appeal to many gentlemen!
Microgaming's partnership with Playboy doesn't just extend to the live dealer casino studio games though. The deal is also thought to include rights to produce several Playboy slot machine games, and other branded products. These might not necessarily be available in the live dealer studio but they would certainly be officially licensed and highly attractive to fans of both the Microgaming and Playboy. The added publicity will almost certainly benefit Microgaming too, as the Playboy brand has a global brand awareness rating of 97 percent! Playboy has 8.2 million Facebook Likes!
The live dealer casino studio is themed very closely after their iconic Playboy Club properties, with shaded lights, glamorous paneling with the mood designed to be stylish and sexy. The games themselves aren't exactly lacking in gorgeousness either.
Microgaming has put forth the very best technology they have to design a great interface for game-play, and the game screens are simple, suave and sufficient.
Available at top Microgaming powered online casinos! Sorry no U.S. players accepted. Click here.
Ps. if you are interested in playing live dealer games on your mobile click here (Note: not a Playboy game).
Here's live action from the Playboy Live Dealer Studio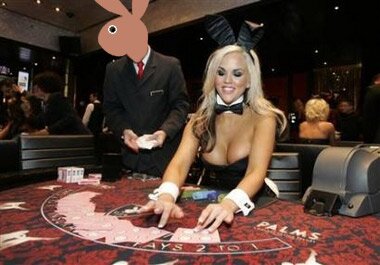 No straight male slots player can forget the Playboy nude slots. Hopefully we will see these sexy slot machines come back soon! Here's a blast from the past: